Your sales teams deserve the most efficient tools
Implement the most efficient tools to create proposals & contracts
KSL Proposal Manager is a software solution improving the daily work of your sales teams by offering a corporate solution to create proposals and contracts. This application is dedicated to organizations that wish to provide their sales teams a centralized business solution for redacting commercial documents and sharing and securing content.

Documents created 30% faster

Documents respecting your corporate image and using validated content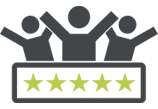 Documents which maximize your sales performance

A monitoring of the redaction and validation actions

Controlling the legal and commercial risks
A content-oriented solution
Optimize the performance of your proposals and contracts
The messages and documents that your sales teams send to their prospects and customers must be professional and quickly redacted and assembled by your sales team. It requires smart templates and effective content based on your CRM data.
Naelan provides to its clients consulting services to improve the presentation of the documents and their content: our designers and consultants work with your marketing and sales experts in order to improve the document creation and convert more sales opportunities.

Analyze your existing documents and contents
Analyze the themes, the arguments, the decision-making obstacles, the differentiators. Map the content components and model the document templates.

Create effective proposals
Create personalized offers with customer-driven argument, easy-to-read content with key messages and differentiators.

Create attractive documents
Create professional and effective documents in line with your corporate image

Implement new collaborative processes
Define the processes and profiles like referents, contributors and validators.

Set-up your KSL software solution
Configure, test and validate the solution

Help your team with training
Train your teams so that your teams can become autonomous and operational

Analyze your existing documents and contents
Analyse des thématiques, des priorités, des freins, des éléments différentiants des offres Cartographies des composants, des modèles et des masters.

Créer des offres efficaces
Créer des offres personnalisées avec un contenu orienté clients, facile à lire, avec des messages clés et des différentiateurs.

Créer des documents séduisants
Créer des documents professionnels et efficace avec une mise en forme différenciante

Mettre en place d' un environnement collaboratif
Identification des référents, des contributeurs, des processus de collaboration ou de validation autour des documents.

Mise en œuvre de votre projet
 Accompagnement sur les différentes étapes de la mise en œuvre de votre projet jusqu'à sa mise en production
Forget the copy/paste for creating your commercial document and sell more
COLLABORATIVE CONTENT MANAGEMENT
A collaborative web application based on a centralized repository to delegate the management of the documents and contents.
AN INTERACTIVE CUSTOMIZATION
A tool to create a document with a few clicks: answer a few questions, add a chapter or paragraph, adapt the structure of the document and customize the content, more easily than using Word.
A MONITORING OF THE PROPOSALS AND CONTRACTS
Collaborative functions to archive the documents and their different versions, but also to search for documents, consult, validate, copy or modify them.
Create document templates for multiple brands, subsidiaries, regions or sales partners.
Multi-language templates, independent of the user language, with a content translation maintained thanks to a web applications.
Document templates based on sharable graphical and text resources.
DYNAMIC TABLES AND GRAPHS
Automation to create tables and graphs based on dynamic data coming from different sources, but also to insert variable QR-Codes or barcodes.
Drag-and-drop functions for restructuring and assembling documents such as RFPs.
PERFECT INTEGRATION WITH YOUR CRM
Provide the list of templates for each CRM context and reduce typing errors with data-driven templates.
Generate personalized PDF and Office documents
Generate your proposition in PDF for your client
Generate your proposition in Word to collaborate with a partner or a client
Generate a PowerPoint personalized presentation for your oral defense
Generate an Excel quote in Excel
Proposal Management in 1 min
More than 1,700 customers in all business sectors